With Site qCodes it is easy to specify an exact location for places that do not have a mailing address and may not be considered a Point of Interest (POI). For example:
Corporate sites where there are many different buildings.

Sports stadiums. Stadiums have many different entrances and parking lots. Click for the example of Rose Bowl in Pasadena, California.
University campuses.
Entrances to subways/metro systems. Some subway stops have many entrances, frequently far apart.
Local administrations; locations of street light, traffic lights, manhole covers, etc. Exact locations available using low cost smartphone app or hand-held sat nav.
If you would like more information about how qCodes™ can help your business, contact us at
corp@our-qcodes.com
.

Rose Bowl Stadium With Site qCodes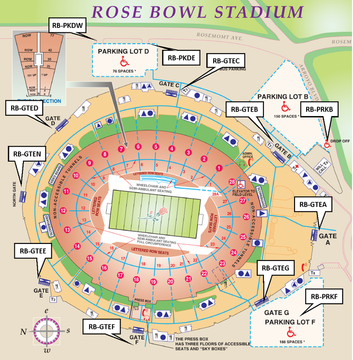 Click for larger image.
The Rose Bowl Stadium is one of the largest stadiums in the US with seating for more than 90,000, more than 12 parking lots and many entrances to the stadium itself.
Finding your way to the correct/best parking lot and then to the correct entrance can be difficult.
qCodes™ make a visit to the stadium much easier.
Each parking lot has its own qCode™, multiple qCodes™ if there are multiple entrances to a particular lot.
Each entrance has its own qCode™. Tickets can be printed with the qCode™ for the most appropriate entrance for your seats.
A recommended parking lot and/or stadium entrance can be printed right on the tickets.
Anyone with a sat nav app on their smartphone can easily find their way. isn't that easy?
Each Site qCode™ "family" (such as RB-XXXX) allows for more than 1 million individual unique codes, e.g. RB-ABCD, RB-ABCF, RB-ABCG, etc. This means that for sites like the Rose Bowl, there are enough permutations to assign an individual Site qCodes™ to each parking spot (about 50,000), each seat (about 90,000) and still
have plenty left for other uses.
---