qCode Geotags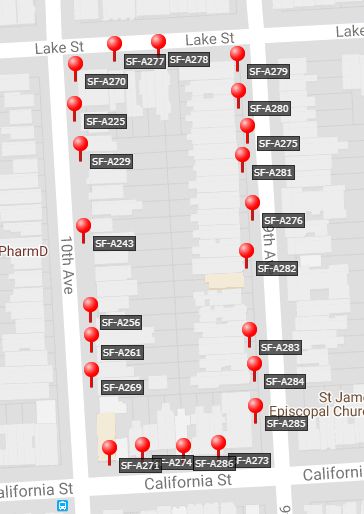 Click on image for working map.
qCode geotags make getting where you want to go, or letting someone know where you are, amazingly easy.
qCodes are short alphanumeric codes similar to a post (ZIP) code – example: AD-23CD. With this short code code you can identify every address in the world, as well as every Point of Interest (POI) such as railway stations, stadiums, statues, etc. The dash "-" shown is not needed. It is only shown to make qCode easier to read.
Just enter a qCode into your sat nav or smartphone app and you are on your way. No need to enter a complete address – something that can be frustrating and prone to errors. qCodes cost you nothing to use!
qCodes can be made up from characters from any language; Greek, Cyrillic, Arabic, Hebrew, Chinese, Japanese, etc.
The image on the left shows a city block in San Francisco labeled with qCodes. For the sake of clarity not all qCodes are shown.
​Click
here
or on
image for full working map.
---
With qCode geotags you can:
enter a location/address into your sat nav device or smartphone app by entering only a few characters. No need to enter a full address.
quickly txt or Tweet your location to friends. "@HiltonNYC, LG-SD45, join us."
​​make it easy for your customers to find your closest location. See Single-Site or Multi-Site Business qCodes.
(Imagery
®2012 Google)